I can't quite believe that 10 years has passed by in the blink of an eye!
My little business idea started back in February 2012 reading an article in Prima magazine about a lady who had set up a secret tea room in Leeds – this grabbed my attention and I immediately thought 'I could do that'. I contacted her with some questions and she very kindly came back to me and said go for it, try it out on friends and family. I welcomed my first paying guests in September 2012 and initially opened once a month on a Saturday but quickly I was asked for other dates. My 40th birthday was approaching and I knew if I didn't make changes I never would and another 10 years would pass me by and it would be too late. Imagine if I had not made those changes…I'm now heading towards 50! It still amazes me to think that article changed the course of my working life and have to say 100% for the better 😊
I built up the business slowly with the early days focussing on afternoon teas at my secret tearoom welcoming initially 6 guests – now I can accommodate up to 12. I love welcoming people and introducing them to the idea of a secret tearoom and guests are great at keeping my location a secret to their friends. I want to make people feel special and well looked after.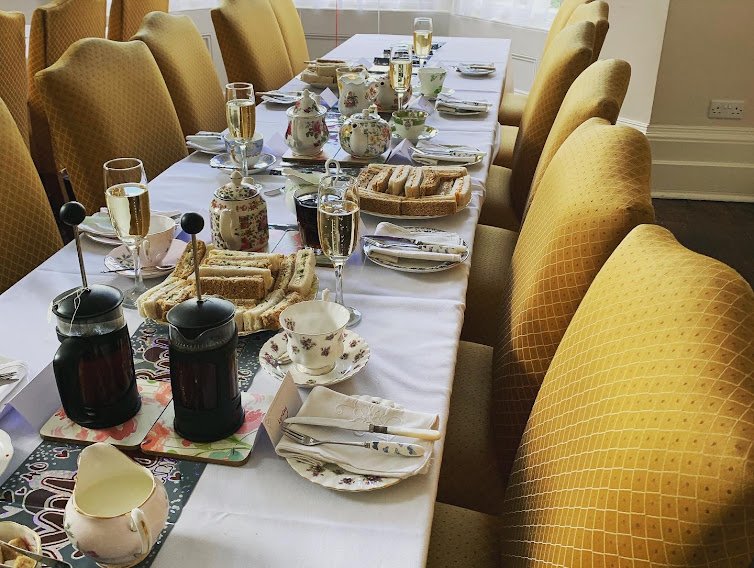 There are many self-catering properties within Derbyshire/Nottinghamshire/Staffordshire where I have hosted afternoon teas for various celebrations including hen do's, birthdays, anniversaries, baby showers and the best part is that guests don't have any washing or clearing up to do! I love to be out and about hosting teas and have worked closely with
Ashbourne Self Catering https://www.ashbourneselfcatering.com/
My Country Houses https://www.mycountryhouses.co.uk/
Acacia Cottages https://www.acaciacottages.co.uk/destinations/derbyshire-hen-weekend/
Weddings are a large undertaking, but it humbles me that people put their trust in me to provide a unique experience for their special day. It is always a pleasure.
Over the years I have learnt a lot about running a small business as you are everything – admin, finance, marketing, designer, baker, chief washer and most importantly the face of the business. I have been lucky to meet great people whether it be guests or other small business owners and a lot of them I regard as friends now which is fab. Social media plays a big part in my business, but word of mouth is best. You can't beat a good recommendation!
I work pre-dominantly on my own but am lucky to work with other local unique small businesses run by women where we support each other in what we do. Events are so much fun when there is a team of people. It provides me with a real sense of achievement. Shout out to these lovelies:
Lynda at Mindful Yoga – https://www.facebook.com/mindful.yoga.2016
Lucy at A Colourful Journey – https://www.lucyrenshaw.com/
Abie at Thread of Life – https://www.abigailwastie.co.uk/
Nicki at Heal Holistic – https://www.heal-holistic.co.uk/
Over time I had to think of ways to slightly change my business to keep it fresh and exciting. I introduced baking lessons for children and children's baking parties in 2017. A great and fun way for children to learn a new skill in baking on a one-to-one basis. The baking parties are hosted at my secret tearoom or another location depending on numbers as long as it has got kitchen facilities. Seeing children having fun around food and creating yummy treats is very rewarding and puts a big smile on my face.
Jump forward to March 2020 when the world changed with Covid-19 and the way a lot of us worked had to be reset. I was in a fortunate position where I was able to offer deliveries of afternoon teas and treat boxes. I think this ended up being a godsend to not only myself but to my customers. Deliveries were made for many occasions as family and friends could not see one another. Often it was those far away who wanted to let them know that they cared. A real privilege to offer such a service through very difficult and challenging times. I continue to offer a delivery service alongside my hosted afternoon teas, and they remain a popular choice.
The support of my friends and family have been instrumental in helping me make a success of my business over the years so a big thank you to all who have been involved and continue to be, you all know who you are.
Here's to the next 10 years of Rachael's Secret Tea Room. I look forward to welcoming new and old guests to my little world of secret teas!